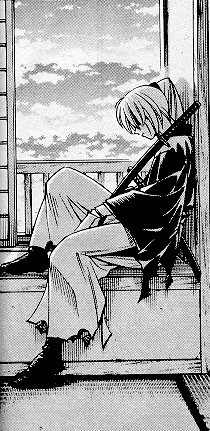 Name: Humira Kenshin
Alias: Hitokiri Battosai, Humira Battosai
Age: 28
Birthday 02/06/1851
Height: 158cm 5foot 2in
Weight:48kg
Blood type: AB
School:Hiten Mitsurugi Ryu
Equipment: Sabaka (inverted blade sword)
Favorite saying: "Oro"
Profile information:
Himura Kenshin, is the main character in the series Ruroni Kenshin. It starts out with Kenshin meeting Kamiya Kaoru, in 1879 at the city of Tokyo. 10 years earlier near the end of the Bakufu era, he was known as one of the revolutionaries, working as a political assassin. Which had earned him the nickname "Hitokiri Battosai".
After the revolution he became a ruroni, a wondering samurai.

Look under the pictures for my own thoughts!